Solid hardwood flooring and engineered wood flooring have a significant number of differences that may or may not be suitable for a project. To help you make an informed choice for your project, here are their main features. .
The differences in composition
Solid Hardwood
Usual thickness : 3/4''
Solid hardwood is composed of a single piece of wood for each stip. it is 100% natural. A solid hardwood flooring is an excellent long term choice. It is highly durable and can be sanded several times over the years to regain all of its original beauty.

Engineered wood
Usual thickness : 5/8″ et 3/4″
Engineered wood flooring is made of real wood. Unlike solid hardwood flooring, it is made of various layers. For SOLU floors, the lower part is made up of several overlapping layers of Russian birch plywood, an excellent guarantee of quality. The final look is obtained with a layer of real wood glued to the base, and which is usually of a substantial thickness; approximately 3.5mm.
Engineered wood flooring is very versatile and ideal for various projects. You'll find below information on projects that are perfect for engineered wood flooring.

Where should they be installed ?
Solid Hardwood
As it does not react well to humidity and wide temperature ranges, you should avoid this type of flooring in humid areas, or in areas where water leaks or damage are more likely to happen. It's better to keep this option for rooms on the second floor or higher. Solid hardwood should also to be avoided in these rooms: Bathroom, basement, kitchen and laundry room.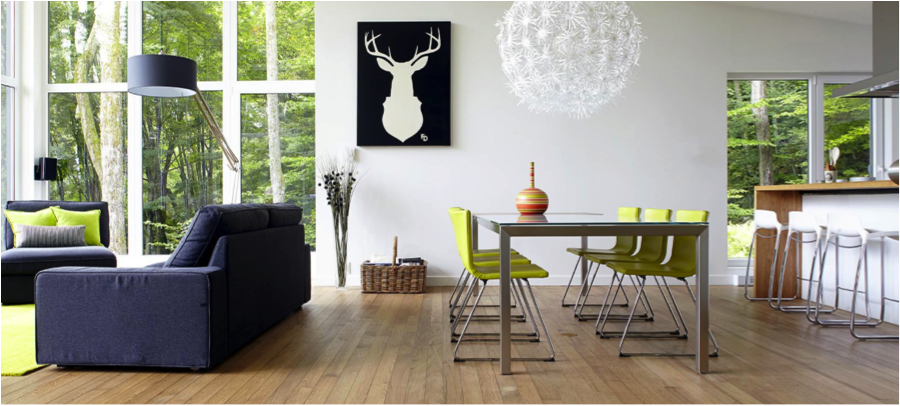 Engineered wood
Engineered wood flooring can be installed in any room and on any floor of a house. Engineered wood flooring can be installed in a basement or directly on concrete. This is also an option to consider for radiant floors. It is also perfect for wall and ceiling coverings.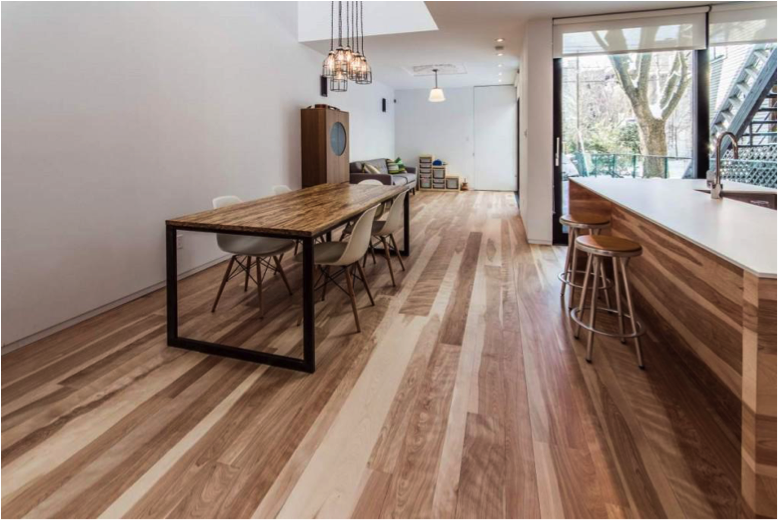 Which one offers the best durability ?
Solid hardwood and engineered wood are both designed to provide stability and durability no matter where they are used. In turn, engineered wood offers exceptional stability in any board width, small and large. It is essential, however to use them in the right rooms, as mentioned above.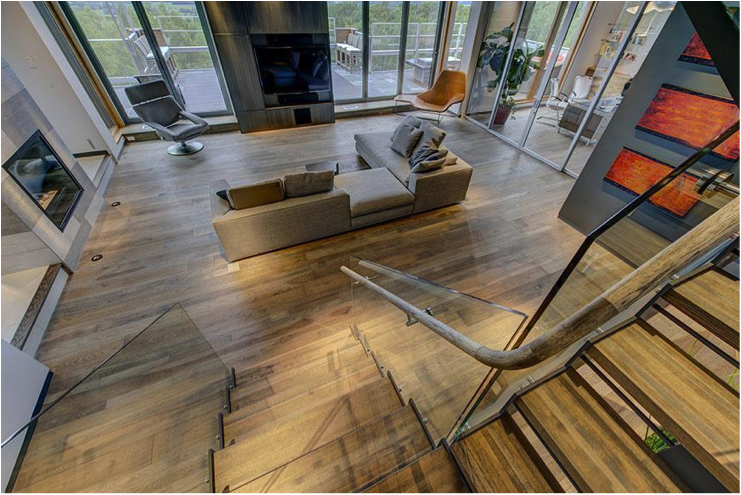 Wood species offered
Engineered wood and solid hardwood offer the same species, allowing you to harmonize your flooring throughout the house. Discover Solu's selection of engineered wood and hardwood.

Durability of each type
Solid Hardwood
Solid hardwood is known to be very resistant to the passing of time. Thanks to its thickness, it can be sanded throughout its life without having to be replaced.
Engineered wood
Because it is resistant to moisture, engineered wood is considered durable. But, it can be sanded only 2 or 3 times before the top layer becomes too thin.
Beyond the final look, the composition of each floor can impact durability. There are different quality grades. Choosing a higher quality grade will let you enjoy your floor longer. At SOLU, our products undergo a quality test at each stage of the manufacturing process. Our quality standards compare to those defined by the National Wood Flooring Association (NWFA).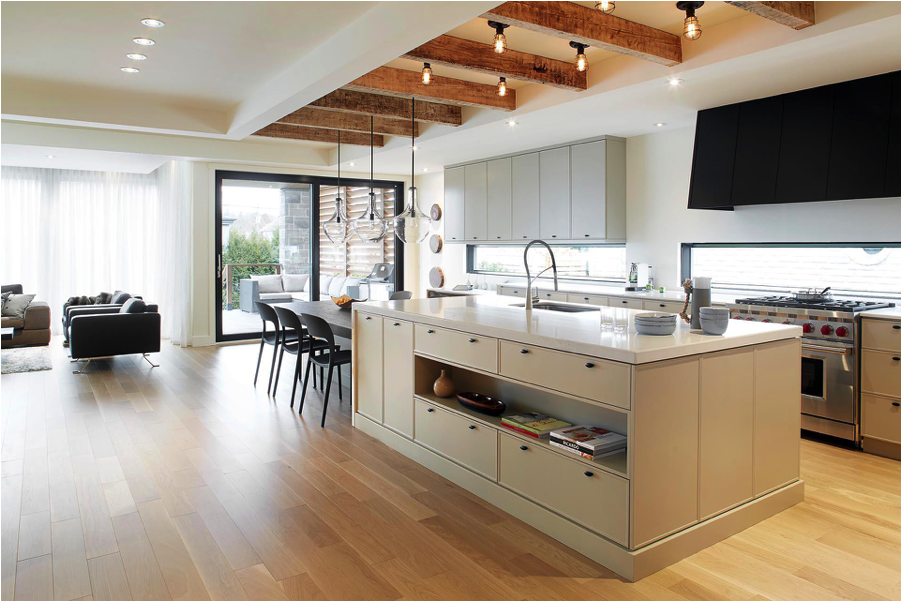 What are the costs?
The price depends on several factors. Engineered wood is more expensive than solid wood because of its different components and the higher number of manufacturing steps. In both cases, the factors that influence pricing are: specie, width, length, thickness. For solid wood, the cost of the project will vary depending on the size of the boards selected. There is also a price difference when it comes to installation, with costs often higher for the engineering floor. Indeed, it is important to use the right tools to glue engineered wood. Solu provides glue, trowels and cleaning wipes to ensure quality work.

Are customized projects possible with either options?
Solu offers customized options for both solid hardwood and engineered wood. Customization lets you create impressive and unique designs, exceptional lengths and widths, personalized colours, thicknesses and wearing surfaces.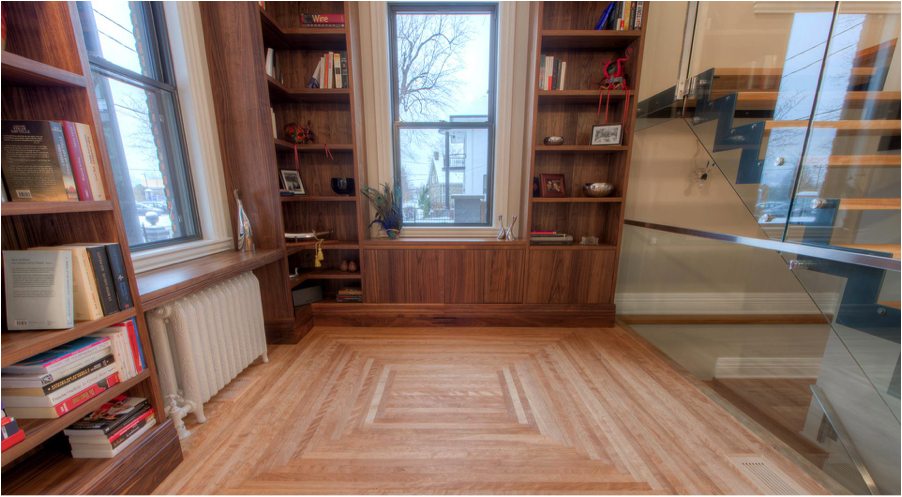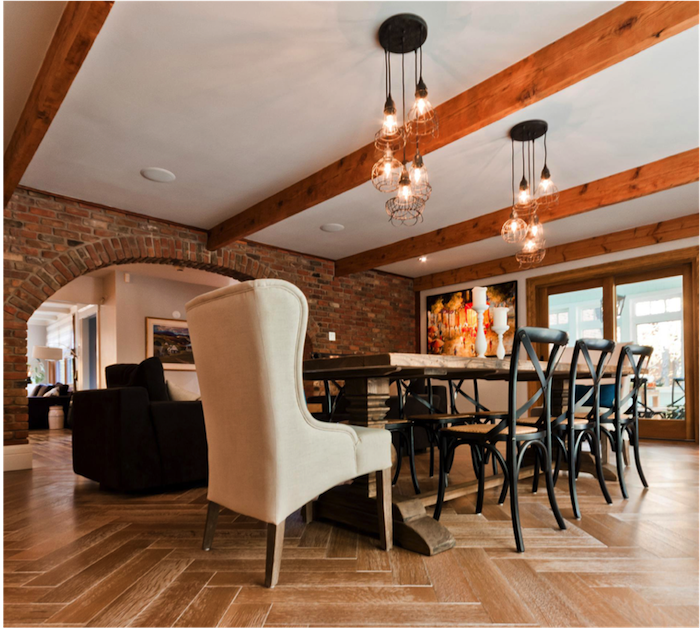 Solu has developed an expertise in both solid hardwood and engineered wood, which allows it to offer creative and sustainable products. Is your project unique or complex? Let us carry out your project!